Have A Camel Ride Safari at Your Next Event!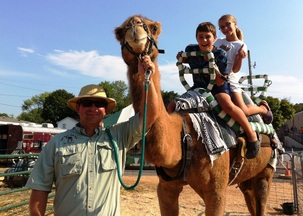 Offer a truly unique and memorable experience to your guests with camel rides from the Bar C Ranch. Our friendly dromedary camels are hand lead by our knowledgeable staff. Children and adults alike will fall in love with our sweet camels, and will enjoy learning about these amazing "ships of the desert".

Camel rides are a great addition to any special event. Rides are available starting at $500/hour. Our sweet and social ride camels were hand raised by our family and have traveled with our petting zoo until they were old enough to ride. Now they help us to educate people about this amazing species and to share a memorable experience with people of all ages.
---