Meet our Family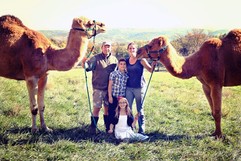 Wil and Jennifer Caton started the Bar C Ranch in 2000 when they moved to Clarke County Virginia in the foothills of the Blue Ridge Mountains.They have both worked with animals for many years and Jennifer has a degree in Animal Science from Virginia Tech. Their two children make up the rest of the human crew at the Bar C Ranch. The Catons are also very lucky to have many friends and family members who are willing to lend them a helping hand for which they are most grateful.


The Caton family also includes many non-human members who help to keep life on the Bar C Ranch fun and busy. The animals are varied in species and in personality and the Catons have learned a great deal by sharing their home and their lives with them.

The Bar C Ranch is operated with the idea that is important for people to learn about the animals with whom we share the earth. The Catons hope that by having the opportunity to meet some of these animals personally, people may develop a stronger interest in and sense of responsibility for the world around them. It is their pleasure to share their love and knowledge of animals with people of all ages.
---