Let our Creature Teachers Educate and Entertain!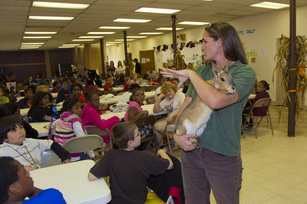 Bar C Ranch offers entertaining educational programs for all ages starting at $250. We bring a variety of animals to your school, party, or event and talk about their habitats, adaptations, diets, and behavior. We have presented shows to children from preschool to high school and gear each show to be appropriate to the age and interests of the audience. We can also emphasize topics that are being covered in the classroom. Shows can be held indoors or out. Call or email to schedule your event.
---
---
Some Creature Teacher Options Include:
---
"Storytime" programs are geared for children in Kindergarten - 2nd grade. Prices start at $250 for groups up to 20 children. Additional craft fees may apply to larger groups. Crafty Critters programs are currently available with a Hedgehog, Tarantula or Tortoise/Rabbit. Other animals may be available upon request.

Crafty Critters Storytime

This fun show is a great opportunity for kids to meet some animals and explore their crafty side. We start out by reading a book about the selected animal(s) After the book, the kids get to meet the animal(s) in person. The kids will learn a bit about them and get the chance to pet them. Then we lead the kids in making an animal related craft to take home.
---
Amazing Adaptations!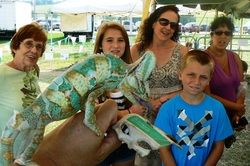 This program is designed for elementary school age children and is especially perfect for 3rd graders as it covers many of the Virginia SOL concepts that they are learning in the classroom. We introduce the children to 5-6 different species and talk about the amazing physical and behavioral adaptations that they use to find the food, water and shelter that they need to survive. This is a ~1 hour show and can include time at the end for children to pet the animals. The cost for this show is $275.

A slightly simplified version of this show can be done for younger children and it can also be split into 2 half hour shows for younger children to allow for shorter atention spans and smaller group size.
---
---
Animal Detectives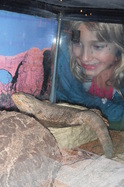 This program is designed for children in 5th - 8th grade. Students will follow a dichotomous key to discover the scientific names of a group of animals. Informative signs will give some of the answers needed to follow the key. Other answers will require the students to closely examine the animals themselves. Once the students have completed the key we will take out each animal and talk about them as we go over the answers the students came up with. During
this time the students may get a chance to touch some of the animals. The cost for this show is $300.


---
There will be an additional mileage fee of $1/mile (one way) for all events over 25 miles from our farm in Berryville, VA.
Animals listed above are subject to change according to availability.
Pricing given is for events located within 75 miles of Bar C Ranch in Berryville, VA. We are hapy to attend events farther
from our location but there may be additional fees for these events. Please
contact us
for pricing.