Educational Petting Zoo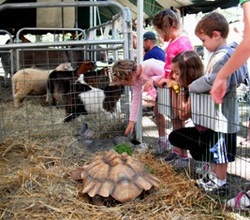 With a petting zoo from Bar C Ranch people of all ages will enjoy learning about both exotic and domestic species while they pet and feed our friendly animals. Every zoo is attended by a member of our knowledgeable staff who's goal it is to help everyone get the most out of their petting zoo experience.

We strive to keep our zoo clean and educational while also caring for our animals in a loving and humane way. Our hope is to educate while we entertain, by creating a personal, one on one experience for your visitors.

We provide the fencing to hold the animals, while people can pet and feed them from the outside. This allows both people and animals to choose how much contact they are comfortable with. Our animals are very friendly, and
many have been with us their entire lives. They are eager to be petted and fed and seem to enjoy the contact with people as much as the people enjoy them.

Our petting zoos are specially designed to be perfect for any occasion. We offer several different zoo packages so that their is sure to be one that will fit your event, and budget.
---
---
---
Petting Zoo Packages
Backyard Zoo

· Sheep
· Goat
· Rabbit
· Cavy
· Tortoise

$275/hr




---

---

Festival Zoo
· Camel
· Donkey
· Calf
· Llama
· Sheep
· Goat
· Rabbit
· Cavy
· Tortoise
​$450/hr



---

​

Barnyard Zoo
​​​​​​​​Llama
Donkey
Mini Cow
Sheep
Goat
Rabbit

​$350/hr.

---

---

For more information or to book your special event call us at 540-539-7689 or email us at

info@barcranch.org

.

Feed is included for private events. For events that are open to the public we provide a feed machine or cups of carrots that can be purchased by visitors for a small fee.

There will be an additional mileage fee of $1/mile (one way) for all events over 25 miles from the farm. There may be additional fees for events lasting more than one day and for events more than 75 miles from the farm or out of state. Please

contact us

for an exact price quote.

We offer special rates for multiple day events and for events lasting 3 or more hours.

For a PDF information packet about what we offer for fairs and festivals, click here

.

Animals listed above are subject to change according to availability.